Since PDF is one of the best incorruptible storage files, people like to save their files in PDF formats more. Due to this desire, several applications were created to support file conversion, such as images in PDF files. This article will list 6 best scanner application.
1.PDF element – Best Free PDF Image App for iOS
With PDFelement for iOS ( PDFelement for Desktop ) you can easily take a picture of anything in PDF documents or select photos from your phone book and convert them to a PDF file.
PDFelement for iOS provides the best scanning experience for iOS 11 / 10.3 / 10.2 / 10.1 / 9/8 users to convert files and images to PDF.
The program comes with many advantages that make it stand out among other applications. For example, you can edit the PDF after conversion by changing the font size, color and type. You can also crop, resize and rotate images in the PDF.
What's more, it allows you to add passwords after conversion to ensure that no one accesses the file without your permission. In addition, you can merge different small PDF files into one after conversion, and you can use encrypted signatures to sign the file. It has an optical character recognition OCR that helps you convert a scanned document into fully searchable and editable text. Finally, you can convert PDF files to other formats, such as HTML, Word, Excel, RTF and more.

Best Android App Recommendations from Image to PDF
1. Image to PDF Converter Free
Image to PDF Converter Free is a useful, fast and straightforward PDF app that helps you convert serial images to PDF. So that you can transform the images on your Android device, just add them to the list and click the Convert button. The app will automatically convert the selected images into a PDF. The application supports the conversion of different file formats to PDF.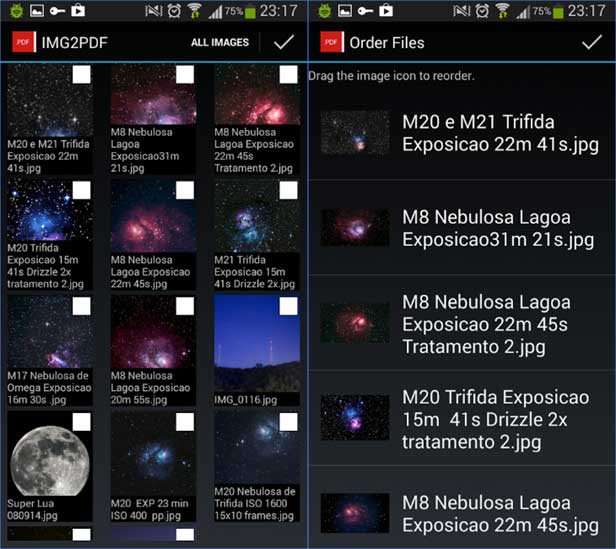 Includes PGM, PCX, XPM, XBM, BMP, DIB, RLE, ICO, EMF, WMF, GIF, Sun RAS, PSD, Dr. Halo, JPEG, JPG, JPE, JFIF, PNG, and TIFF formats. The other image formats are PNM, PPM, PBM, PFM, WBMP, TGA, SGI, RAW, PICT, MNG, Kodak PhotoCD files, JP2, J2K, HDR, Raw Fax G3, EXR, DDS, JNG, JBIG, and IFF . You can also set the page size of your PDF, in addition to other PDF information, such as its subject, author and title. It has even more features like the ability to drag and drop and the automatic opening of PDF after its creation.
2. PDF Converter Pro
PDF Converter Pro can convert images to PDF on Androids, and convert from multiple files to PDF. With it it is possible to convert images or figures in different formats, such as BMP, TIFF, JPG and ODT formats. The app allows you to preview your documents before converting them and provides a backup for the converted files.
In addition, you can download the converted files to your device and share them on Gmail, Facebook, Google+ and other sharing platforms. However, this application has some fees, and after using it for some time, you will have to pay a monthly fee. In addition to converting images, you can convert Excel, Word and PowerPoint documents in various formats, such as PDF and images.
3. File Converter
File Converter allows you to convert most files, including images on Android phones and tablets. The app converts the data into a secure cloud, to ensure that the transformed files can be downloaded to the app. It converts image files like JPEG and other photo files to PDF.
Furthermore, the app can convert other files such as Excel, Word, audio, video, PowerPoint and files. In addition to being compatible with Android devices, the program is compatible with iOS and Blackberry devices. However, this tool is not secure, as the conversion takes place on a different Cloud.
4. PDF Converter
PDF Converter allows users to convert files to PDF, including images or pictures. The application allows users to download their files from iCloud, web or email and send them to their cell phone to be converted. You can save converted files to high quality while maintaining the original quality of the images or other files and not distorting them. The images in the new file remain identical to the initial one.
The tool takes a short time to convert a series of files, as the conversion is carried out at high speed. Data conversion takes place locally to ensure that the process is safe and accurate. In addition to images, there are other formats that can be converted to pdf such as videos, contacts, Web pages, messages, e-mails and many more.
5. Small PDF
Small PDF is a professional web-based converter that converts images and other files to PDF. What's more, it can convert PDF files to other file formats. It supports a quick conversion process and you can upload your image from cloud-based services.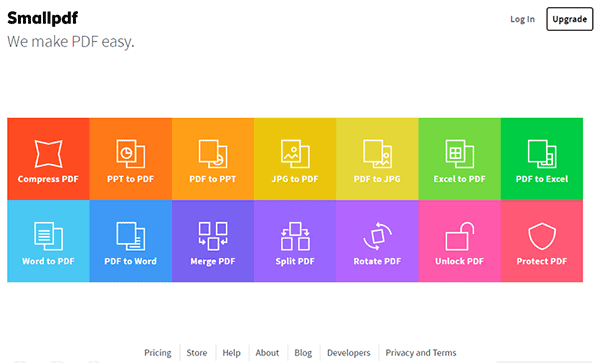 The downside of this application is that it does not have the option to change the settings of your final file. What's more, you cannot edit your image as you cannot rotate, resize or crop images with this app. However, when the conversion is complete, a download link will immediately appear to allow you to access the converted file.