How To Solve Discord RTC Connecting?
If you are a gamer then you absolutely use discord app for getting more gaming experience. You should also try to get online server members for Discord to get more exposure while you are playing online. But for sometimes you face problem between discord app and the RTC connecting as the name Discord RTC Connecting also some of my friends also face this problem but don't worry us have a proper solution about this problem.
We research about "Discord RTC Connecting" error and we find a reason about it and it is related to the voice and it will not able you to connect from the sound. Moreover, we provide the information for the people who want to know something extra about discord app.Apart from that we have the data about Discord RTC Connecting and a proper fix for it that will help the people who are facing this problem.
How To Solve Discord RTC Connecting?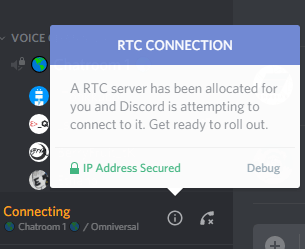 Here, we have two best methods for Discord RTC Connecting overcome this error. But first you have to check the internet restriction on your internet connection, if there is admins block the discord on their server then it is obvious that you cannot use it.
Now, there are two main reasons for occurred this error. First one is you changed you PC settings for some reasons and second one is due to the discord app this configuration.
1#: Solve With Check System Setting And Configuration
Alright, we have a primary technique for you that you have to try to resolve "Discord RTC Connecting" problem.
Step 1: At the very first you need to do, restart your PC and internet router. Because In some reasons, yours system is creating a problem due to some hardware.
Step 2: Next, you can check your antivirus, firewall, VPN and ever things that operate internet network. Now, you can check the discord app to run.
Step 3: Otherwise, you can disable QOS and then check the discord app that it is showing connecting error now or not.
2#: Solve With The Fix Proxy Server Setting
If you are unable to solve the RTC discord connecting problem by using the above solution then this are a proper solution and its work for sure. First of all you need to fix the proxy server setting of your PC and then discord RTC connecting will disappear from the discord screen. To complete this process use the following steps and fix the problem.
Step 1: Firstly, Close all the apps that you are using right now.
Step 2: Then, open the control panel on your PC by using search box.
Step 3: After the open control panelselect the NETWORK AND INTERNET option.
Step 4: Now, you can see a new window will open with thenameINTERNET PROPERTIES.
Step 5: After that click on the CONNECTION option and then click on the LAN setting.
Step 6: Now, Uncheck the box that is showing below the PROXY SERVERname.
Step 7: Done.
Final Words
These are the methods that you can use to solve the discord RTC connecting error that is occurs when you run the discord app on your PC. If you are facing any other issues related to discord RTC connecting, then you can ask us into the comment.